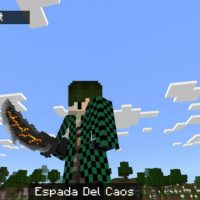 Warcraft Mod for Minecraft PE
Version MCPE: 1.16.0 - 1.20.15
Download
Download Warcraft Mod for Minecraft PE: use legendary weapons to face the dangers of the cube world, and also get to know a new mob that can be a good defender.
What is interesting in Warcraft Mod?
The game of the same name is very popular among users all over the world. Now a famous character will appear in Minecraft PE, defeating which players will receive legendary weapons. It has never been available in the cubic world before.
Also, Warcraft Mod offers to evaluate new types of equipment and swords that were created based on the original story. They will create a fantasy atmosphere that users will remember for a long time. A prerequisite for the operation of these updates is the included Experimental game mode, so do not forget about it when creating a world.
 Water Element
This update for Warcraft Mod provides for the appearance of a new mob in Minecraft PE. The Spirit of Water consists of a large flow of liquid and has unique animation and sound effects.
Players can create it using the /summon alex:water_element command or by applying a new spawn egg from the Creative Mode Inventory. This creature is harmless and can be used by players to defend villages or attack monsters.
Warcraft Weapon
Several options for powerful weapons are offered to evaluate the authors of this update for Warcraft Mod. At the disposal of players will be swords from various computer games, including Warcraft. All items have unique characteristics.
It is worth noting that the same sword can act differently on different opponents, so it is better to try out each of them during the battle. Also, the heroes are invited to put on beautiful kimonos, which have unique protective properties.
Spears, maces, and katanas introduced in this update will allow players to prove themselves on the battlefield and are more likely to defeat a wide variety of opponents.
How do I install this Warcraft mod?

The file is in .mcaddon extension, so just tap on the file to automatically install the modification.

Can this mod be run in a multiplayer game?

Yes, for this it is enough just to be the owner of the map and install this modification on it.

What if the mod does not work?

Try to activate the experimental game mode.
download anchor
Download Warcraft Mod for Minecraft PE