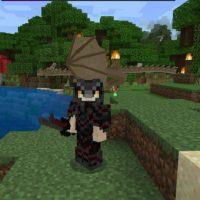 Skyrim Mod for Minecraft PE
Version MCPE: 1.16.0 - 1.20.31
Download
Download Skyrim Mod for Minecraft PE: fight dragons, use powerful armor and build a portal to a mysterious city.
What is interesting in the Skyrim Mod?
This addition, created based on the game of the same name, will appeal to absolutely all Minecraft PE players. It has dangerous dragons and priests, new locations, as well as the ability to use incredible armor and weapons.
Fight, explore the territory and use unique effects thanks to Skyrim Mod.
Dragons
Thanks to Skyrim Mod, players will have the opportunity to fight with real dragons. It is worth noting that these creatures are very strong and dangerous. They have three battle phases. But in each of them, the mob will be very strong.
In the ground phase with fiery breath and bites, this monster will receive 800 health units and turn into an almost invincible opponent. If the Minecraft PE hero still manages to defeat him, he will receive dragon bones as a reward.
They can be used to craft armor and other equipment. But, of course, all items will also be available in the Creative Mode Inventory.
Other mobs
In addition to dragons, a priest from the game of the same name named Krosis will also appear in Minecraft PE. He has an unprecedented health reserve of 1000 units and will attack the enemy with fireballs.
After defeating him in Skyrim Mod, the player will receive a sword and a breastplate, and other valuables.
Items and Effects
In the Inventory of the Creative Mode, players will be able to find two types of improved armor and special swords and bows. They will help in the fight against dragons. Also on the territory of Minecraft PE, you can see the Shout Wall.
With the help of Shout, players will be able to get various effects, such as acceleration and increased dexterity or summoning lightning. Skyrim Mod will appeal not only to fans of the original game but also to all players who want to show all their abilities in battle.
How do I install this Skyrim Mod?

The file is in .mcaddon extension, so just tap on the file to automatically install the modification.

Can this mod be run in a multiplayer game?

Yes, for this it is enough just to be the owner of the card and install this modification on it.

What if the mod does not work?

Try to activate the experimental game mode.
download anchor
Download Skyrim Mod for Minecraft PE