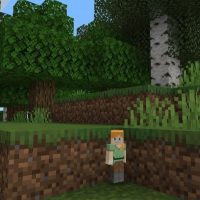 Shrink Mod for Minecraft PE
Version MCPE: 1.16.0 - 1.20.15
Download
Download Shrink Mod for Minecraft PE: change the growth of the character and evaluate how the gameplay changes.
What is interesting in Shrink Mod?
It so happens that the familiar appearance of the Minecraft PE world can be quite ordinary and even boring. Now every player can forget that he could not pass somewhere because his height was too big.
In addition to reducing Shrink Mod also allows you to increase the growth of the hero, as well as return to the previous appearance.
Decrease
With Shrink Mod, the growth of the hero on Minecraft PE will decrease to just 1 block, the width will be only half of the block. Now users can forget that Steve could not fit into a narrow or low opening.
Creating new adventures will become even more interesting, along with this useful update.
There are no more restrictions that could prevent the hero from exploring the boundless world. A lot of amazing and interesting adventures await the little hero on the way.
New sizes
Another option for changing the growth of the hero is provided by Shrink Mod, now not only reduction but also increase is available to users.
The mechanics of changing growth are very interesting. If the user wants to increase the hero at size, it is necessary to take a golden apple in his hand and approach the witch. A button will appear that you will need to click on and Steve will become bigger.
To reduce the size of the hero, you need to do the same actions, but you will need to approach the caller. If the player wants to return to his former appearance, go to the iron golem.
It is important that each growth has its pros and cons. The little hero will be able to pass through small holes, but at the same time, his level of health and damage will be less.
Giants, on the contrary, have stronger health and damage, but they move slowly and cannot ride horses.
Players can try each of the suggested options in Minecraft PE and choose a more convenient one, or return to the standard growth and continue traveling as before.
How do I install this mod?

The file is in .mcaddon extension, so just tap on the file to automatically install the modification.

Can this mod be run in a multiplayer game?

Yes, for this it is enough just to be the owner of the card and install this modification on it.

What if the mod doesn't work?

Try to activate the experimental game mode.
download anchor
Download Shrink Mod for Minecraft PE