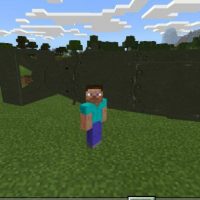 Rival Rebels Mod for Minecraft PE
Version MCPE: 1.14.0 - 1.19.83
Download
Download Rival Rebels Mod for Minecraft PE: evaluate the power of a real nuclear bomb or use different types of dynamite to destroy everything around.
What is interesting in the Rival Rebels Mod?
Players can arrange an explosion of incredible power and watch their consequences thanks to Rival Rebels Mod. The authors have prepared several types of dynamite, each of which has unprecedented destructive power.
And for the most desperate heroes of Minecraft PE, it is proposed to evaluate the capabilities of a real nuclear bomb. This device is not only impressive in size but also capable of destroying all living things around. It is recommended to assess the risks in advance and come up with a good shelter because an explosion can also destroy Steve.
Bomb
Arrange an explosion of incredible proportions offered by the developers of Rival Rebels Mod. This time, a unique item will appear in the Inventory of the Creative Mode. It looks like a giant nuclear bomb, the impressive size of which speaks of its power and destructive capabilities.
Before activating this device, the Minecraft PE player is recommended to think of escape routes, because the force of the explosion will be huge and can destroy not only blocks and plants but also Steve himself.
Too Much TNT
By installing this add-on for Rival Rebels Mod, players will receive seven varieties of dynamite at once. It is worth noting that the power of each of them is several times higher than the standard options that are used in Minecraft PE.
They can destroy 20, 50, or even 100 blocks in one explosion. This will lead to the formation of craters and collapses and the uncontrolled destruction of the entire territory. In addition, the authors have prepared several varieties of TNT with effects.
For example, the appearance of a fire or a nuclear block after its destruction. These unique items can be used to clear the surrounding space or to get to hard-to-reach areas in caves.
How do I install this Rival Rebels Mod?

The file is in .mcaddon extension, so just tap on the file to automatically install the modification.

Can this mod be run in a multiplayer game?

Yes, for this it is enough just to be the owner of the card and install this modification on it.

What if the mod does not work?

Try to activate the experimental game mode.
Download Rival Rebels Mod for Minecraft PE