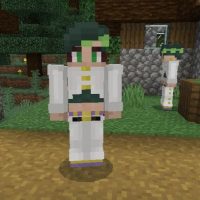 Jojo Bizarre Adventure Mod for Minecraft PE
Version MCPE: 1.18.0 - 1.20.15
Download
Download Jojo Bizarre Adventure Mod for Minecraft PE: create your own world that will be filled with objects and characters from the popular anime.
What is interesting in Jojo Bizarre Adventure Mod?
According to fans of Jojo Bizarre Adventure, the strangest anime of all that has appeared at the moment. The creator of this manga, Hirohiko Araki, truly breaks all stereotypes.
In this update for Minecraft PE, the developers have given players the opportunity to get into this incredible world and become direct participants in it.
A lot of original objects and characters create an indescribable atmosphere that all fans of Japanese culture like so much.
Opportunities
Jojo Bizarre Adventure Mod allows each user to embark on an incredible journey through the world of the main character.
After installation, Minecraft PE will have heroes and stands from the popular anime. Players will have the opportunity to summon forces and use them.
To summon the stand, the player must pick up the disc and keep it activated for 3 seconds. There is a special Disk for deactivation.
The following stands are available to players:
Star Platinum – able to stop time for 5 seconds;
World – stops time for 9 seconds and blocks;
Magic Red – fire fist and rope;
Killer Queen – uses a bomb and arson;
Mad Diamond – has the ability to heal;
Weather Forecast – can change the weather and cause a thunderstorm;
Hand – teleportation.
This update will especially appeal to all anime fans, but even if the player has not heard anything about it, the exciting gameplay will not leave anyone indifferent.
Mobs
In Minecraft PE, mobs also appear that run and fight among themselves. All these objects and characters create the atmosphere of a real anime in a cubic world.
Incredible and exciting adventures await everyone who downloads Jojo Bizarre Adventure Mod.
Do not forget to turn on the Experimental Mode to take advantage of all the possibilities!
How do I install Jojo mod?

The file is in .mcaddon extension, so just tap on the file to automatically install the modification.

Can this mod be run in a multiplayer game?

Yes, for this it is enough just to be the owner of the card and install this modification on it.

What if the mod doesn't work?

Try to activate the experimental game mode.
download anchor
Download Jojo Bizarre Adventure Mod for Minecraft PE