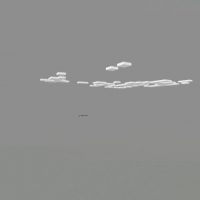 Fog Mod for Minecraft PE
Version MCPE: 1.14.0 - 1.20.32
Download
Download Fog Mod for Minecraft PE: plunge into the mysterious atmosphere, thanks to the appearance of a new natural phenomenon in the cubic world.
What is new in the Fog Mod?
As everyone knows, in Minecraft PE there is a change of noon and night, as well as several natural events. First of all, it is worth noting the rain and snow. They create an unusual environment and set up players in a certain way.
The authors of Fog Mod decided to add another event to this list, without which the game space, which claims to be realistic, cannot do. Now white or gray smoke will follow the players everywhere.
Undoubtedly, such an update will come in handy when creating mystical adventures or parties.
Natural Phenomenon
The authors of this add-on for Fog Mod offer players to independently place this natural event where it is necessary. In the Inventory of the Creative Mode, they will be able to find a new item.
Just click anywhere on the territory of Minecraft PE and it will immediately fill with a thick haze. With this technique, you can easily hide from your pursuers or create a mysterious atmosphere.
It is only necessary to take into account that opponents can also sneak up on the player using fog.
F.O.G.
An excellent option for the creators of horror maps or mystical adventures will be this update for Fog Mod. This time, the entire territory surrounding the players will change.
The environment in Minecraft PE will instantly become more mysterious and even frightening.
Biomes
Through the fog that will fill the entire territory of Minecraft PE after installing this update, sunlight will not penetrate so intensely. The surrounding space will instantly become smoother and softer.
The authors of Fog Mod have changed the appearance of all biomes, now wherever the hero goes, he will be accompanied by a thick white haze.
How do I install this Fog Mod?

The file is in .mcaddon extension, so just tap on the file to automatically install the modification.

Can this mod be run in a multiplayer game?

Yes, for this it is enough just to be the owner of the map and install this modification on it.

What if the mod does not work?

Try to activate the experimental game mode.
download anchor
Download Fog Mod for Minecraft PE