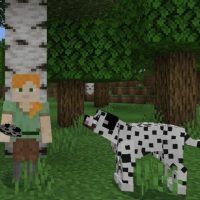 Inventory Pets Mod for Minecraft PE
Version MCPE: 1.16.0 - 1.20.40
Download
Download Inventory Pets Mod for Minecraft PE: create a new world in which there will be a lot of new wonderful friends.
What is interesting in Inventory Pets Mod?
Many Minecraft PE users like to have animals. Inventory Pets Mod will add even more wonderful friends. The player can have a fish, a hamster, a parrot, or a dog.
Of course, new pets will need to be fed and cared for, but it is worth it. After all, they will certainly give the hero a wonderful mood.
Aquarium fish and turtles
First of all, the hero will need an aquarium for these pets. With Inventory Pets Mod, users can get goldfish and as you know, they cannot stay without water for a long time. Therefore, first, the pets will need to be tamed to transfer to the aquarium.
A charming fish in an aquarium will decorate any interior. Do not forget to feed pets.
In addition to fish, turtles can also live in aquariums. To tame these creatures, you will need fish bait.
In Minecraft PE, users can meet fish and turtles in forests and in the taiga.
Hamsters and ferrets
Ferrets are incredibly playful and curious animals. They are very fond of fruits and bread. After taming, the ferrets will run after the owner and they can be taught to sit.
Another type of rodent in Inventory Pets Mod is hamsters. Plump and smart little creatures will be wonderful companions of the hero during adventures in the world of Minecraft PE. They are tamed like ferrets.
Rabbits
The hero can meet wonderful big-eared pets in the forest. It will be possible to tame rabbits in Minecraft PE with the help of carrots.
These are rather timid creatures who, with the help of Inventory Pets Mod, can become real friends of the hero.
Dogs
In Inventory Pets Mod, the choice of this type of pet is really impressive. 25 different dog breeds are now available in Minecraft PE. Among them, there are large individuals, such as Labrador or Doberman. Also, the hero can get a pug or a chihuahua.
Dog biscuits are used to tame these loyal friends. After that, the dogs will guard their owner. Also, users can install a booth for a pet, and then the hero will be able to leave him alone at home.
How do I install this mod?

The file is in .mcaddon extension, so just tap on the file to automatically install the modification.

Can this mod be run in a multiplayer game?

Yes, for this it is enough just to be the owner of the card and install this modification on it.

What if the mod doesn't work?

Try to activate the experimental game mode.
Download Inventory Pets Mod for Minecraft PE