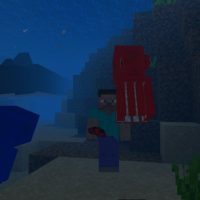 Octopus Mod for Minecraft PE
Version MCPE: 1.13.0 - 1.20.32
Download
Download Octopus Mod for Minecraft PE: meet new inhabitants of the underwater world, some of whom will be very dangerous when they meet and can harm the player.
What is interesting in Octopus Mod?
After installing this Octopus Mod add-on, the underwater world will become even more dangerous. Now the player can be attacked not only by drowned people but also by sharks, predatory fish, and even crabs. Of course, the authors have added many other inhabitants of the depths of the sea.
Many of them, such as shells, snails, and beautiful fish can become an ornament of any aquarium or pond. But the heroes of Minecraft PE should be on the alert, because even the most beautiful creatures, such as lionfish or jellyfish, can be poisonous and dangerous.
Oceanic
You can diversify the gameplay and decorate the underwater world of Minecraft PE right now by installing Octopus Mod. Now, going on a sea voyage and going under the water, players will meet many new inhabitants.
Among them, there will be quite friendly individuals, such as shrimps, starfish, various beautiful fish, and even whales. But still, most mobs will be aggressive and will certainly attack other creatures and the player himself.
In any case, it is worth getting acquainted with various creatures and seeing with your own eyes all their power and beauty.
Inhabitants of the deep sea
All new inhabitants of underwater spaces will be dangerous for the player. Among them, it is possible to note not only octopuses, which are presented in two colors – blue and red. Also on the way to Minecraft PE heroes will meet dangerous and bloodthirsty piranha fish and several types of sharks.
One of the largest creatures will now be a sperm whale, but players should also be careful when meeting him. Even small and seemingly harmless crabs that run along the bottom, when a user appears, will certainly try to attack him.
Install Octopus Mod and discover the amazing world of adventures underwater.
How do I install this Octopus Mod?

The file is in .mcaddon extension, so just tap on the file to automatically install the modification.

Can this mod be run in a multiplayer game?

Yes, for this it is enough just to be the owner of the map and install this modification on it.

What if the mod does not work?

Try to activate the experimental game mode.
download anchor
Download Octopus Mod for Minecraft PE