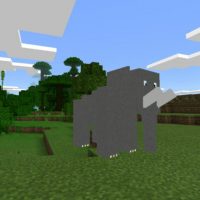 Elephant Mod for Minecraft PE
Version MCPE: 1.12.0 - 1.20.32
Download
Download Elephant Mod for Minecraft PE: meet new mobs that are large enough and will gladly ride the player on their big back.
What is unique in Elephant Mod?
In many countries, these animals are used to travel long distances and transport heavy loads. Due to their impressive size, they are famous for their endurance and strength.
Now Minecraft PE users can appreciate all the possibilities of these creatures, thanks to the Elephant Mod. Put a saddle and armor on them and hit the road right now.
Elephant
Players who have installed Elephant Mod can get another mount. Moreover, these creatures have quite impressive long tusks. When meeting a Minecraft PE player, they will behave extremely friendly and start hugging.
But you should be careful because these creatures have quite a lot of power and can harm the hero. In savannas and deserts, you can meet not only adults but also cubs. By the way, due to their age, it is impossible to tame them.
Despite this, adult elephants are quite suitable for riding. Players can use a saddle and even equip their large pet with golden armor. It will reduce the damage in case he is attacked by opponents.
Apples, melons, or wheat can be used to treat animals. Keep an eye on the health of your new pet and go even on the most difficult and long journey.
More Animals
In addition to elephants, and quite large ones, which players will be able to tame and ride, this update will add another animal to Minecraft PE. Now players can get acquainted with two new mobs at once.
Hippos are slightly smaller in size, but still quite large compared to other representatives of the cubic world.
You can meet them in any reservoir, except cold ones. As noted earlier, it is impossible to tame these creatures from Elephant Mod. But at the same time, they can be successfully bred. Feed them carrots, potatoes, or beets for this.
How do I install this Elephant Mod?

The file is in .mcaddon extension, so just tap on the file to automatically install the modification.

Can this mod be run in a multiplayer game?

Yes, for this it is enough just to be the owner of the map and install this modification on it.

What if the mod does not work?

Try to activate the experimental game mode.
download anchor
Download Elephant Mod for Minecraft PE