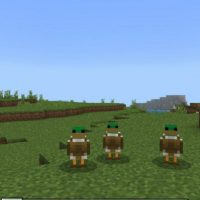 Duck Mod for Minecraft PE
Version MCPE: 1.18.0 - 1.20.15
Download
Download Duck Mod for Minecraft PE: Meet these cute birds that you can try to tame, as well as meet other pets.
What is interesting in Duck Mod?
Even though Minecraft PE currently has quite a lot of very diverse animals and birds, the authors continue to offer players new inhabitants.
It is worth noting that the creatures that will appear after installing Duck Mod perfectly harmonize with the surrounding space as if they always existed in it. In addition to the ducks themselves, the creators suggest adding other representatives of the animal world to the game, which will undoubtedly add something new to the gameplay.
 Just a Duck
You can meet these waterfowl in Minecraft PE most often near reservoirs, but they will appear quite often in other locations. At their core, ducks are peaceful and harmless animals.
Players can use their meat cooked to make up for their hunger level. They are perfectly amenable to breeding and can become excellent pets.
By the way, during the breeding process, players can get an unusual look at these birds in Duck Mod, which cannot be obtained with the help of a regular spawn. She will be different from ordinary creatures with an unusual headdress.
These creatures are at the same time very similar to those existing in the game and at the same time have unique abilities. Place a music block next to the mob to see her merry dance.
Domestic
In the real world, no one can be surprised by an ordinary farm inhabited by chickens or cows. The authors of this update for Duck Mod suggest creating them with a variety of domestic and wild animals.
Of course, ducks will appear in Minecraft PE, which will look very realistic. But besides them, players will also see ostriches, capybaras, zebra, and hippos. Thus, it will be possible to perfectly diversify the gameplay and make it interesting and exciting.
How do I install this Duck Mod?

The file is in .mcaddon extension, so just tap on the file to automatically install the modification.

Can this mod be run in a multiplayer game?

Yes, for this it is enough just to be the owner of the map and install this modification on it.

What if the mod does not work?

Try to activate the experimental game mode.
download anchor
Download Duck Mod for Minecraft PE