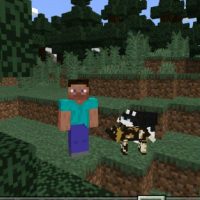 Dogs Mod for Minecraft PE
Version MCPE: 1.16.0 - 1.20.31
Download
Download Dogs Mod for Minecraft PE: get a new pet that will become not only a loyal friend to the player but also a fearless defender.
What is interesting in Dogs Mod?
The animals that the Minecraft PE player can tame thanks to Dogs Mod are distinguished by incredible dedication and courage. They will become not just companions on all journeys, but also protect in case of an attack.
Updates will allow you to tame new inhabitants of the cubic world, treat them and build them cozy booths so that a loyal friend can have a good rest after a hard day. A truly huge selection of pets will allow each user to find an animal to their liking.
Rather download the update and get acquainted with all breeds of dogs. These creatures will always protect their master.
Wolves and More
One of the largest additions to this theme will fill the world of Minecraft PE with a huge number of different creatures. They will all be either dogs or wolves. Some of the new mobs will be dangerous for the player, so never approach them without a bone in your hands.
In each biome, the heroes will meet unique creatures, for example, a prismarine wolf will live underwater, which swims perfectly and copes with drowned people perfectly.
And in the cold biomes in Dogs Mod, players can meet friendly huskies or St. Bernards. The latter, by the way, have a canister of warm water on their back to warm a tired and frozen traveler.
Dogs Plus
This time, the authors of this update for Dogs Mod have prepared twenty free different breeds for players, from the smallest to fairly large individuals. Users can tame any of them with the help of a bone, animals consider it a wonderful delicacy.
If users need to cure a new pet, then the Minecraft PE player will need to use raw meat. You can meet any of them in grass biomes or summon them using a spawn egg from the Creative Mode Inventory.
How do I install this Dogs mod?

The file is in .mcaddon extension, so just tap on the file to automatically install the modification.

Can this mod be run in a multiplayer game?

Yes, for this it is enough just to be the owner of the card and install this modification on it.

What if the mod doesn't work?

Try to activate the experimental game mode.
download anchor
Download Dogs Mod for Minecraft PE