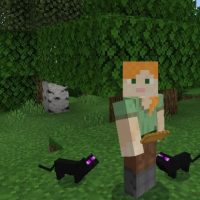 Cats Mod for Minecraft PE
Version MCPE: 1.14.0 - 1.19.83
Download
Download Cats Mod for Minecraft PE: add cute furry friends to your world, learn to tame and feed them, or make friends with predatory animals.
What is interesting in Cats Mod?
Cats are one of the most mysterious and self-willed pets. With Cats Mod for Minecraft PE, even more variants of these wonderful pets are available to players.
Users have the opportunity to feed and even treat cats. By the way, the new creatures are able to teleport and are not afraid of fire or lava. And the little kittens are also protected by armor.
Kinds
There are 2 types of animals available in Cats Mod:
cat-ifrit – spawns in the Lower World, they are fast and are not afraid of fire;
cats of the Edge – they can teleport and are afraid of water. A hero can meet them in Minecraft PE in the Edge dimension.
Features
Players can change the color of animals in Minecraft PE. To do this, Cats Mod provides tags. To change the color, users need to use the colorfulcat tag and return the original bathtime color.
Also, if the user wants to create a cat with a spotted color, use the ocelot tag.
With the help of a variety of treats, players can treat their pets. With the help of crafting, a hero will get a useful item that will help to quickly restore the health of your pets.
Big Cats
If users want to have not just a cute kitty, but someone bigger, there are updates in Cats Mod to create very large cats.
There are several options available: panther, lion, tiger, and others. These ferocious predators can be tamed with the help of salmon. And a golden apple is used for breeding.
Everyone should be very careful with these animals because even though they belong to the feline squad, they know how to attack and kill the enemy.
But if the player manages to tame these predators, they will become excellent companions of the hero in his travels through the boundless world of Minecraft PE.
How do I install this mod?

The file is in .mcaddon extension, so just tap on the file to automatically install the modification.

Can this mod be run in a multiplayer game?

Yes, for this it is enough just to be the owner of the card and install this modification on it.

What if the mod doesn't work?

Try to activate the experimental game mode.
Download Cats Mod for Minecraft PE