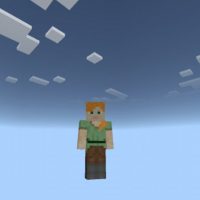 Empty Map for Minecraft PE
Version MCPE: 1.16.0 - 1.20.15
Download
Download Empty Map for Minecraft PE: get the opportunity to create your own space right now, because everything has disappeared from this world.
What is interesting in Empty Map?
As everyone knows, to create a picture or something new, a foundation is needed, while it must be empty. This will help to realize all the ideas and ideas. The authors of Empty Map have tried to make a comfortable space so that players can create their unique new world.
Every Minecraft PE player can feel like a real creator. Build any city or highway with obstacles. There is no limit to creativity in the cubic world. Any ideas can be implemented right now.
Heavenly Emptiness
Once the player is in the game, he will be able to see what is on the block. He soars in the sky. Below it is an endless playing field. It is worth noting that the author of Empty Map removed not just unnecessary objects and objects from it, literally everything was gone from it.
There was only green grass and a lot of different creatures, including aggressive ones. This location is perfect for creating new interesting places or trails for parkour.
Minecraft PE players will not be hindered by anything in the process of creating their own, unique space. Emptiness does not always mean that it will be boring. Quite the contrary, it will allow you to do something new.
Void World
Another update for Empty Map is an empty world in which there is nothing but the sky, sun, and clouds. This will be excellent preparation for creating your own space.
This option is perfect for all users who want to make their city or place for adventures. Create the most incredible territories where you can have fun with your friends.
Minecraft PE players will be able to bring all their most incredible ideas to life. And this addition will provide a convenient space for this. Use this opportunity to create something new and unusual.
How to download Empty Map?

Tap the file and open it in Minecraft PE.

Can I use this map with my friends?

Yes, the map can be used for a multiplayer game.

Can i use the map in the survival mode?

Yes, the map is suitable for the survival mode.
download anchor
Download Empty Map for Minecraft PE