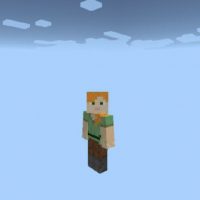 Empty World Map for Minecraft PE
Version MCPE: 1.17.0 - 1.20.15
Download
Download Empty World Map for Minecraft PE: create your own space right now and fill it with exactly what the player is interested in at the moment.
What is interesting in Empty World Map?
For Minecraft PE, many different worlds and updates are created daily on a variety of topics. It can be adventures in a modern city or medieval travel, as well as horror or parkour trials.
The authors create them literally in any subject and the player can only explore the territory and try to cope with all the challenges. The authors of Empty World Map offer completely different possibilities. Players will have to create their playground from scratch, fill it with natural objects and make a location that suits them.
Loneliness
As the name of Empty World Map implies. There will be absolutely nothing on the territory except the player himself and a completely boundless space. Of course, it will be difficult for even the most experienced user to cope with such a test.
But at the same time, he will gain invaluable experience. And, perhaps, will continue to develop in terms of creating new locations for Minecraft PE. By the way, the authors left the sky, clouds, and the moon in this world. It will also change the time of day, which will give a certain realism to the gameplay.
Emptiness
Another update in a similar design, just to start building a new space, Minecraft PE players will need to enter the command /setblock ~~~ Bedrock. In this world, just like in the previous one, there will be not a single block.
By installing Empty World Map, the hero will get into a space completely devoid of any objects. This is a great chance to start the whole process from the very beginning and add to the surrounding nature only what is needed at the moment.
Bring to life the most daring ideas and ideas, and after completion invite friends to spend time having fun together.
How to download Empty World Map?

Tap the file and open it in Minecraft PE.

Can I use this map with my friends?

Yes, the map can be used for a multiplayer game.

Can i use the map in the survival mode?

Yes, the map is suitable for the survival mode.
download anchor
Download Empty World Map for Minecraft PE