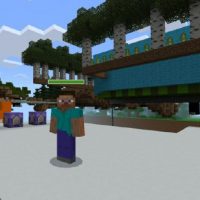 Dungeons Map for Minecraft PE
Version MCPE: 1.16.0 - 1.20.41
Download
Download Dungeons Map for Minecraft PE: exciting adventures in which players are waiting for a lot of dangers and interesting levels.
What is interesting in Dungeons Map?
Survival in dark corridors, where Minecraft PE players are in danger at every corner, is suggested by the authors of Dungeons Map. These locations will be full of monsters that players will have to fight.
It will also be possible to show your mental abilities by solving puzzles. But in addition, parkour tests have also been prepared. Each location has several stages. Users can open the next one only by going through the previous one.
Rather, start your journey together with friends and show all your skills and abilities.
Dungeons RPG
Incredibly interesting location, which is divided by the authors into several levels of complexity. As soon as the player passes one of the stages, the next one will open to him. In this update, the main task will be survival.
To do this, you will need to solve puzzles and fight with various opponents. It is worth noting that this update for Dungeons Map has its own internal currency, which is called LVL. Its users will receive for completing the assigned tasks.
Users can also visit a Store where players will be asked to replenish their stocks. Look for chests that will be hidden everywhere. They may contain food, weapons, or medicines.
Exciting adventures for Minecraft PE users will not leave anyone indifferent. Start your journey right now and show all your abilities.
Drifter
Another option for testing in dark underground corridors is offered by this update for Dungeons Map. There are 10 different levels, each of which will be interesting and challenging.
Minecraft PE users will pass parkour tests, and solve puzzles and PVE. Only the bravest and smartest will be able to cope with these tasks.
How to download Dungeons map?

Tap the file and open it in Minecraft PE.

Can I use this map with my friends?

Yes, the map can be used for a multiplayer game.

Can i use the map in the survival mode?

Yes, the map is suitable for the survival mode.
Download Dungeons Map for Minecraft PE