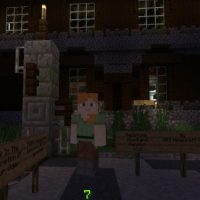 Woodland Mansion Map for Minecraft PE
Version MCPE: 1.12.0 - 1.20.15
Download
Download Woodland Mansion for Minecraft PE: appreciate the incredible construction in which the authors have automated many standard processes using various mechanisms.
What is interesting in Woodland Mansion Map?
The authors of Woodland Mansion Map invite all Minecraft PE players to visit the mysterious building in the thickest part of the forest. This is a completely ready-to-explore structure in which the heroes will meet mysterious inhabitants.
Also, the building contains a lot of rooms that are equipped with Redstone. Automated processes will help protect the space and relax after a hard day.
Inside, the heroes can swim in the pool and warm up by the fireplace, as well as evaluate the sorting machine or other mechanisms.
Woodland Mansion
As the name implies, Woodland Mansion Map is a beautiful building that is hidden from prying eyes in the depths of the forest. The building has an excellent interior and many different rooms.
Minecraft PE players will meet local inhabitants here in the form of Evokers and Vindicators, who will try to destroy everyone who disturbs their peace. Only the bravest heroes will dare to visit this incredible place and cope with all the difficulties.
Use all your knowledge to survive and become the rightful owner of this mansion.
Redstone
This time, the authors of the update for Woodland Mansion Map have not prepared any inhabitants and dangers. On the contrary, this beautiful building has everything you need for a comfortable stay.
In more than seventeen rooms many different mechanisms work with the help of Redstone mechanisms. For example, Minecraft PE players can use a sorting machine or evaluate a security system. Which is fully automated by the authors.
Players can turn on the fireplace with a lever, and the heroes can relax after hard trials in a large swimming pool.
How to download Woodland Mansion Map?

Tap the file and open it in Minecraft PE.

Can I use this map with my friends?

Yes, the map can be used for a multiplayer game.

Can i use the map in the survival mode?

Yes, the map is suitable for the survival mode.
download anchor
Download Woodland Mansion Map for Minecraft PE