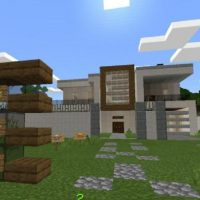 Safe House Map for Minecraft PE
Version MCPE: 1.12.0 - 1.19.83
Download
Download Safe House Map for Minecraft PE: explore an impregnable dwelling, which at the same time has a unique design, and stay in it to live.
What is interesting in the Safe House Map?
Many Minecraft PE players would like to live in comfortable conditions, but at the same time not spend a lot of time building such a dwelling. Safe House Map is perfect for this case.
The authors have thought out not only a unique protective system, which is equipped with all kinds of mechanisms. They also made the building incredibly stylish and comfortable to live in.
Inside, the heroes will find everything they need to spend time here usefully and in complete safety.
Safe House
This time, the authors of Safe House Map offer players to visit a fully protected building, which, like a bunker, will not allow uninvited guests to get inside.
Everything is done very stylishly and efficiently, so the player will not only be completely safe from hostile creatures but also spend time in comfort.
By the way, if a Minecraft PE player is accompanied by friends, then a lot of interesting jokes have been prepared for them. Having experienced them, no one will want to climb inside without permission.
Extreme
On the territory of this location, players will see a large mansion. It has three degrees of protection. For this purpose, a moat filled with lava and many different mechanisms is used. By the way, there is a special room inside, in which there are levers for deactivating all devices.
The player can disable them so as not to get caught himself. The authors of this add-on for Safe House Map have created a building in an ultra-modern style. It looks quite unusual for Minecraft PE, but at the same time, it is very stylish and comfortable.
Evaluate all the possibilities of this wonderful house right now and be sure of your safety.
How to download Safe House Map?

Tap the file and open it in Minecraft PE.

Can I use this map with my friends?

Yes, the map can be used for a multiplayer game.

Can i use the map in the survival mode?

Yes, the map is suitable for the survival mode.
Download Safe House Map for Minecraft PE