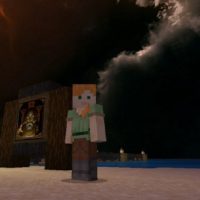 Haunted House Map for Minecraft PE
Version MCPE: 1.19.0 - 1.20.15
Download
Download the Haunted House Map for Minecraft PE: explore a mysterious territory that hides many secrets and riddles and tries to survive.
What is interesting in Haunted House Map?
The authors of the Haunted House Map did not limit themselves to creating a sinister mansion, although it is worth noting that it is made in an excellent style. On the territory of this map, Minecraft PE players will find many strange and mysterious structures.
For those users who will not be afraid and will find the strength to visit them, many interesting secrets will open. But they should take into account that dangers will be waiting for them everywhere, so it's better to always be on the alert.
Territory
As soon as the player is on the Haunted House Map, he gets to the pier where the chest is installed and the boats are stored. They will be useful to cross to the island. Like the main part of the location, it is covered with forests.
Here Minecraft PE players are greeted by an old abandoned lighthouse, as well as a village long abandoned by residents and even a semblance of a mine. By the way, the number of underground passages is really impressive. The heroes will pass through lava corridors filled with boiling water.
They also have to overcome a space where they will be surrounded by fire from all sides. If you get a trolley, you can arrange a kind of attraction and have plenty of rides in dark spaces.
Mansion
The main building on the Haunted House Map is not so easy to find. The fact is that it is located in the middle of a dense forest, on top of a hill. The authors have beautifully arranged the interiors, but Minecraft PE players will have no time to look at them.
Because from the moment they appear at this location, they will need to save their lives from the attack of dangerous creatures. Be sure to install this update if you want to diversify the gameplay and try something new, as well as simply have fun.
How to download Haunted House Map?

Tap the file and open it in Minecraft PE.

Can I use this map with my friends?

Yes, the map can be used for a multiplayer game.

Can i use the map in the survival mode?

Yes, the map is suitable for the survival mode.
download anchor
Download Haunted House Map for Minecraft PE