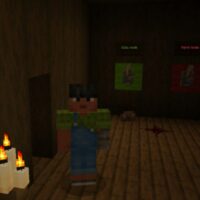 Granny Map for Minecraft PE
Version MCPE: 1.6.0 - 1.20.40
Download
Download Granny for Minecraft PE: Try to survive in this creepy house inhabited by a dangerous old lady and find an opportunity to escape as quickly as possible.
Granny Map for Minecraft Bedrock Edition
For those users who like horror adventures, this location for Granny Map is perfect. The authors have created a confusing and rather large-scale construction, where there is very little lighting and a lot of doors.
Survival is also complicated by the fact that a crazy old lady is wandering around the house, and Minecraft PE players will have a limited amount of time to get out of this creepy place.
First
This is the first creation of the authors of Granny Map on this subject. Minecraft PE players will spawn in a small lobby where you can choose the difficulty level and start the test. It is worth noting that from the first minutes, users will be accompanied by terrifying music that enhances the atmosphere of horror and despair.
The old lady will look for her victim everywhere, using the cabinets and the space under the bed to hide from her.
Second
This time the plot is complemented by a new character. His role is played by an equally creepy old man, who, like his grandmother, will try his best to grab a Minecraft PE player.
Now the process of survival on Granny Map will become even more difficult, so you should think about your tactics in advance.
Third
The largest location is presented in this supplement for Granny Map. In the lobby, there are levers with which you can customize the gameplay. It is worth noting that there is already a creepy and chilling atmosphere in it.
The house itself is still quite dark, there are many rooms in it, and ominous sounds make survival sometimes unbearable. Try to escape from this creepy place no later than five days. Otherwise, the Minecraft PE player will simply die.
Test your nerves and invite friends, This map is available for use in multiplayer mode.
How to download Granny Map?

Tap the file and open it in Minecraft PE.

Can I use this map with my friends?

Yes, the map can be used for a multiplayer game.

Can i use the map in the survival mode?

Yes, the map is suitable for the survival mode.
Download Granny Map for Minecraft PE