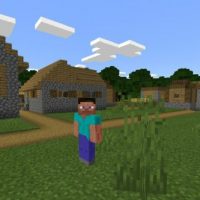 Stronghold Map for Minecraft PE
Version MCPE: 1.14.0 - 1.20.41
Download
Download Stronghold Map for Minecraft PE: explore the underground corridors or help the villagers restore the normal life of the settlement.
What is new in Stronghold Map?
The authors of Stronghold Map have created unique conditions for Minecraft PE players in which they can show their best abilities. For example, to help a small village recover from the destruction that led to the fact that it became almost abandoned.
Or go for a test in the dungeon, where you need to find special buttons to move between levels. Books with hints that the authors have placed in secluded places will help to cope. Start an exciting adventure right now.
Find the Button
On the territory of this location, the Minecraft PE player will move between different levels. While each time to get to the next stage, you need to find a special button.
The difficulty of this add-on for Stronghold Map is that it will not look the way users of the cubic world are used to it. Thus, only the smartest and bravest players will be able to pass all the tests.
And if there are problems in the search process and it does not work out to find the cherished object in any way, the authors have prepared a book with hints at each stage. By the way, each test differs from the previous one with unique interiors, but they are all designed in the style of a medieval dungeon.
Legit Survival
The authors of this update for Stronghold Map offer players the to help the long-abandoned village. Players need to return her to her former appearance and explore the mysterious citadel. There is a lot of work to be done: restore destroyed buildings, establish mining and plant new plants.
Minecraft PE players will be interested to know that the addition was created in survival mode. Which means that they will have access to the achievement system and other interesting features.
How to download Stronghold Map?

Tap the file and open it in Minecraft PE.

Can I use this map with my friends?

Yes, the map can be used for a multiplayer game.

Can i use the map in the survival mode?

Yes, the map is suitable for the survival mode.
Download Stronghold Map for Minecraft PE