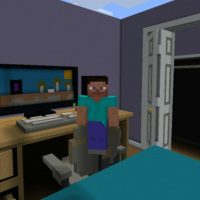 Room Map for Minecraft PE
Version MCPE: 1.12.0 - 1.19.83
Download
Download Room Map for Minecraft PE: try to find a way out or play with friends in a very exciting game that is known to absolutely everyone.
What is new in Room Map?
Solve various puzzles to get out of a closed room, using all the possibilities for this and look for clues, the fascinating Room Map offers Minecraft PE users.
By the way, the heroes will have the opportunity to play hide-and-seek with friends while in a completely real room of one of the authors of this update.
Room 2
This time, the authors of Room Map have prepared 18 rooms for the players at once, in which they will need to pass parkour tests. It is worth noting that the difficulty level will be quite high.
Also, Minecraft PE players can meet different blocks that can give different abilities. For example, blue gives increased speed, and green makes jumps even higher.
But black concrete is to be feared, because stepping on it will blind the player, and brown imposes the effect of slowness. Use all the opportunities to cope with the upcoming challenges.
Hide and Seek
The author of this update for Room Map decided to completely recreate his room in Minecraft PE. He invites players to recall a fun game that is known to anyone, hide and seek.
Users together with friends, of course, can have fun and just have a great time.
Escape
And again the player appears indoors, but this time the main task will be to get out. To do this, you need to solve puzzles and look for hidden clues. Push the levers and buttons and look for everything that will help you find the coveted exit.
This is a fairly easy version of Room Map, which will appeal to those players who like to cope with various tasks and discover something new.
It is worth noting that the author tried to make the graphics very interesting and enjoyable. Minecraft PE users can rate it right now.
How to download Room Map?

Tap the file and open it in Minecraft PE.

Can I use this map with my friends?

Yes, the map can be used for a multiplayer game.

Can i use the map in the survival mode?

Yes, the map is suitable for the survival mode.
Download Room Map for Minecraft PE