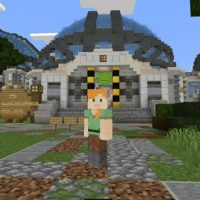 Labs Map for Minecraft PE
Version MCPE: 1.16.0 - 1.20.41
Download
Download Labs Map for Minecraft PE: go to mysterious scientific centers where they conduct experiments on abnormal monsters or create your adventures.
What is incredible in Labs Map?
Visit the laboratory where scientists study unusual creatures or create your elixir using test tubes and ampoules, it is offered in the vastness of Labs Map. Spacious rooms will allow you to fully experience the atmosphere and perhaps help create something new.
By the way, Minecraft PE players will be able to see with their own eyes the premises that have become known from the videos of one popular YouTuber.
Zero
The authors of this supplement for Labs Map offer players to feel like a researcher or a brilliant scientist. Four spacious rooms are prepared at once for various experiments and experiments.
The atmosphere is created by a large number of racks with ampoules and test tubes. In which Minecraft PE heroes will create new recipes and conduct tests.
SCP
This time, the adventures will be horror-themed, and players will visit a mysterious scientific space where scientists study creatures with anomalies.
It is for this reason that this Labs Map has many rooms with cages and glass rooms. Terrifying monsters live where. In order not to be afraid to explore the territory alone, Minecraft PE players can make friends with them.
Dan TDM
Visit the unusual rooms that Minecraft PE players could see in the videos of one of the most famous English-speaking YouTubers, it is proposed in this update for Labs Map.
The heroes will get into a unique laboratory with a very unusual interior. They are buildings similar to huge hemispheres with stained glass windows. Inside trees grow and donkeys walk peacefully.
Previously, users could only see it all on the screen. And now they can use this territory to create their adventures.
How to download Labs Map?

Tap the file and open it in Minecraft PE.

Can I use this map with my friends?

Yes, the map can be used for a multiplayer game.

Can i use the map in the survival mode?

Yes, the map is suitable for the survival mode.
Download Labs Map for Minecraft PE