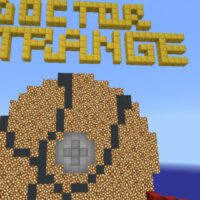 Doctor Strange Map for Minecraft PE
Version MCPE: 1.20.0 - 1.20.32
Download
Download Doctor Strange Map for Minecraft PE: Appreciate the unique place for the hide-and-seek game, which was created based on the film about the popular supreme magician.
What is interesting in Doctor Strange Map?
Fantasy themes are popular all over the world and among Minecraft PE users as well. That is why creators make various add-ons that allow the heroes to feel like their favorite characters.
This time Doctor Strange Map offers players to visit a unique land. That was created from various buildings and locations. They could be seen in the recently released on-screen movie about the supreme magician.
Plot
Recall that according to the original plot of the film, the main character, has got into a desperate situation. Is looking for ways to regain his former abilities. To do this, he goes to a mysterious place, where he begins a complex learning process and becomes a real wizard.
In the course of his travels, Doctor Strange gets into various buildings and fights with his enemies right on the streets of New York. It is these places that the author of this update for Minecraft PE recreated on Doctor Strange Map.
Opportunities
Doctor Strange Map is a location for playing popular games. Therefore, it is recommended to gather several players to have a lot of fun on it. First, the player appears in the lobby, where the Randomizer is installed very conveniently. It gives out random armor or a valuable item.
Thus, Minecraft PE players do not start their trials empty-handed. The next room houses all kinds of buildings from the original story and entire locations from it.
Features
Besides the fact that Minecraft PE users can play well-known games on Doctor Strange Map, they can also find secret items here.
But it is worth noting that it will be quite difficult to do this and only the most attentive will receive their reward.
How to download Doctor Strange Map?

Tap the file and open it in Minecraft PE.

Can I use this map with my friends?

Yes, the map can be used for a multiplayer game.

Can i use the map in the survival mode?

Yes, the map is suitable for the survival mode.
Download Doctor Strange Map for Minecraft PE