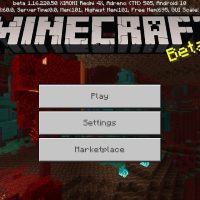 Minecraft PE 1.16.220.50
Download Unblocked
Download
Download Minecraft PE 1.16.220.50 for free with working Xbox Live: copper, lightning rod, mountains, Glowing squids, sculk sensors and more!
Minecraft PE 1.16.220.50 – What's new?
The caves had not been updated for a long time and were getting boring. Because of this, players did not want to be in them. But after the developers decided to release the Minecraft PE 1.16.220.50 Caves & Cliffs update, everything has changed. New materials, blocks and much more have appeared.
Sculk Sensors
In Minecraft PE 1.16.220.50, any vibration can now be detected. The new sculk sensors reacts to all kinds of vibrations nearby. For example, if the user moves next to this block, the block will activate and give a redstone signal. After a while, it fades out.
The vibrations themselves can be created by any movement. This means that it is now possible to build more hidden traps that will be hard to recognized. The sculk sensors remain active for two seconds.
Copper
To get copper in Minecraft PE 1.16.220.50, you first need to dig up copper ore in the caves. After that, the player must smelt copper ore to get a copper ingot. This ore generates at about the same height as iron ore. A wide variety of copper blocks can be obtained from copper ingots.
However, all blocks have one undesirable property in Minecraft 1.16.220.50.210.61: they can oxidize in air. In this case, the color of the texture of the copper block begins to turn turquoise over time. To avoid this effect, it is necessary to combine the copper block with the honeycomb.
Stalagmites and stalactites
Another innovation in Minecraft PE 1.16.220.50 is stalactites and stalagmites. These are new blocks found in caves. Stalactites hang from the ceiling and can fall on the player. Stalagmites are on the ground and can damage the user if fallen on. Both of these blocks are very dangerous for the user. You can create stalactites and stalagmites of any length by connecting them to each other.
Glowing squids
In Minecraft PE 1.16.220.50, the developers have returned the glowing squids to the game. Now they are again decorating the underwater space. From them you can get a glowing ink sac and from this sac – a glowing frame. Any item in such a frame will glow.
The mountains
In addition to squids, new mountains have appeared in MCPE 1.16.220.50. They are much larger than usual and look more realistic.
Can I tame a goat in MCPE 1.16.220.50?

No, you can only milk it.

What do I do with a goat horn?

You can utilize it to produce raid sounds.

What do I need to collect powder snow?
download anchor
Download Minecraft 1.16.220.50