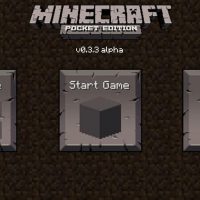 Minecraft PE 0.3.3
Download Minecraft PE 0.3.3
Download
Download Minecraft PE 0.3.3 for Free on Android: use an ax to defend against enemies, and beware of night monsters.
What is interesting in Minecraft 0.3.3?
Mojang Studios developers continue to delight fans with the appearance of new mobs and items. One of these is a bow and arrow, thanks to which players have the opportunity to conduct a long-range battle.
Also in the creative mode, players will be able to use new blocks. Clay and tree seedlings appear in this version of the game. Also, the hero will be able to create a real library, for this, users will need to find a reed and create sheets of paper.
Mobs
In Minecraft PE 0.3.3 players will meet not only friendly but also quite aggressively minded mobs. The former include cows and chickens, as well as sheep and pigs that appeared in earlier versions.
These creatures are not dangerous, on the contrary, they benefit the player. From them, players can get loot in the form of meat. When night falls in the cubic world, it becomes dangerous to walk around the neighborhood.
The fact is that spiders and skeletons will be added to the previously appeared zombies in this version. They will chase the player and will certainly attack. Therefore, it is better to take care of shelter for this time of day in advance.
Interestingly, with the onset of the morning, zombies and skeletons evaporate in the sun, and spiders are not in danger. But they will not attack in the daytime either.
Ax
In order for the Minecraft player to 0.3.3, it was easier to face the dangers, he can create an ax on the workbench. This item will serve not only for the extraction of useful resources but also for self-defense.
Enemies will have very little chance of winning if the hero is armed with this tool. It is noteworthy that it can be made from iron, gold, and diamonds. The more expensive the material is, the longer the item itself will last.
All these items create new opportunities for survival or the disclosure of their creative potential in the cubic world.
Which mobs are dangerous at night MCPE 0.3.3?

Zombies, skeletons and spiders.

What new weapons have appeared in Minecraft PE 0.3.3?

What is a workbench for?

To use it to create objects.