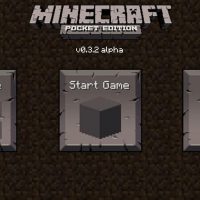 Minecraft PE 0.3.2
Download Minecraft PE 0.3.2
Download
Download Minecraft PE 0.3.2 for Free on Android: try to mine ore, melt it in a furnace and create a new item using a workbench.
What is interesting in Minecraft 0.3.2?
The developers of Mojang Studios continue a large-scale update, in which more and more new functions and features become available to players. Each version brings previously unseen features, mobs, or items to the gameplay.
In Minecraft PE 0.3.2 the hero has a new occupation – mining. This is an extremely important moment in the process of survival because, with the help of extracted resources, users can create various items and weapons.
For example, create a pickaxe or an ax for a more convenient extraction of resources or a sword to protect yourself from enemies.
New mobs
Minecraft 0.3.2 again pleased the players with the appearance of friendly mobs in the gameplay. At the same time, animals not only create a special atmosphere but can also be extremely useful for the player.
Chicken can be propagated using seeds and get eggs from it. To create more cows, wheat will be needed. This animal gives milk, skin, and meat. Thus, players can create farms that will benefit.
Bake
In earlier versions, iron ore, gold and diamonds could not be mined in any way. In Minecraft PE 0.3.2 there is such a possibility, and besides, a new block furnace has appeared. In it, players can not only cook food but also melt the extracted minerals into real ingots.
They will be required to create items in the workbench, which also appeared in this version of the game.
Workbench
This is another useful block that is in Minecraft 0.3.2 players should try to use. The fact is that users can use it to create items such as an ax, a sword, and a pickaxe.
It is worth noting that in the menu of this function there is a complete list of crafting recipes. In this case, the first ones to be displayed are the ones that the player has enough resources to create.
What is the oven used for in Minecraft PE 0.3.2?

For melting extracted minerals into real ingots.

Why do I need a workbench in MCPE 0.3.2?

You can use it to create items such as an ax, a sword and a pickaxe.

What resources can be obtained from a chicken?