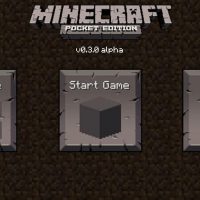 Minecraft PE 0.3.0
Download Minecraft PE 0.3.0
Download
Download Minecraft PE 0.3.0 for Free on Android: meet new friendly mobs and master the possibilities of crafting items.
What is interesting in Minecraft 0.3.0?
A global update in which players will get even more new and interesting features is already available for download. Minecraft PE 0.3.0 features a new item crafting system, thanks to which players will be able to create items themselves.
There are not many recipes yet, but it is already available to create tools with which the hero can build and mine. The inventory has also received some changes, it is no longer infinite. Now users will have to craft items, and not take ready-made ones.
Workbench
This useful block is created by placing wood in a 3 by 3 grid. A workbench is used to create objects. There are many crafting recipes available in Minecraft 0.3.0 that the player can use.
It is worth noting that this object will always show how many resources are needed to craft the necessary item.
In order to take advantage of the new features, users need to open the inventory and click on the Craft button.
Mobs
In Minecraft PE 0.3.0 there are even more friendly mobs that will be very useful for players. These are cows and chickens, which, like their predecessors, sheep, and pigs, will roam all over the cubic world.
With these animals, players will be able to get useful loot in the form of skin and feathers. They can be used mainly when creating paper.
Ore
In previous versions, the iron had only a decorative function and could not be used by players in any way. In Minecraft 0.3.0, it is impossible to imagine the process of survival without it. It is with the help of iron ore that it becomes possible to craft weapons and tools.
Fortunately, it is quite easy to find this resource, because it is generated almost everywhere. Thus, players get a large selection of possible actions and activities in the cubic world.
What friendly mobs appeared in Minecraft PE 0.3.0?

What is the name of the block with which you can create items in MCPE 0.3.0?

It is called a workbench.

What is iron ore used for?

For crafting weapons and tools.
download anchor
Download Minecraft 0.3.0