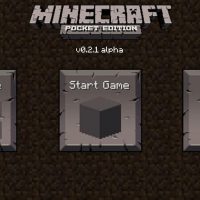 Minecraft PE 0.2.1
Download Minecraft PE 0.2.1
Download
Download Minecraft PE 0.2.1 for Free on Android: use new tools for resource extraction, and scissors for shearing sheep.
What is interesting in Minecraft 0.2.1?
The cubic world of Minecraft PE 0.2.1 is developing faster and faster and players have more and more opportunities for development in it. Thanks to the expansion of the range of available items, the hero can choose an activity to his liking.
For example, to build houses, extract useful resources, or even do sheep shearing. Also, players now have the option to choose the game mode. In creativity, he will not be afraid of any enemies, and in survival, he will have to work hard to stay alive in the cubic world.
Tools
The developers took care of the heroes who preferred to mine useful resources and added useful items to the Minecraft 0.2.1 Inventory.
This is a stone pickaxe, as well as an ax and a sword. With the help of these devices, it will be possible to expand the capabilities of the hero and continue exploring the surrounding space.
Previously, friendly mobs have already appeared in the game: sheep and pigs. From the first players can get wool, but it is not necessary to destroy a harmless animal for this. Just use another new tool – scissors.
Take them in your hand, go to the sheep and click on it.
Mobs
In the daytime, in Minecraft PE 0.2.1, users can see cute and harmless animals – sheep and pigs. They just wander around and pose no danger to the hero.
The creatures that appear in the cubic world after sunset behave quite differently. Zombies move in large groups and chase the player everywhere. It is because of their numerical superiority that these creepy creatures will be hard to defeat.
But as soon as morning comes, zombies will cease to be dangerous for the player and will simply burn in the sun, leaving behind only a piece of rotten flesh.
How to trim a sheep in Minecraft PE 0.2.1?

Take a pair of scissors in your hand, go to the sheep and click on it.

Which mobs should be feared at night in MCPE 0.2.1?

What game modes are available to players?

Survival and creativity mode.