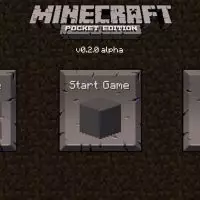 Minecraft PE 0.2.0
Download Minecraft PE 0.2.0
Download
Download Minecraft PE 0.2.0 for Free on Android: beware of zombies that will haunt the player at night.
What is interesting in Minecraft 0.2.0?
The first large-scale update that pleased users with a large number of new features. First of all, in Minecraft PE 0.2.0, the entire gameplay was divided into two platforms. This is a mode of creativity and survival.
Players can independently decide which of the options suits them better and switch between them. In addition, the new version has a day and night cycle. Now with the onset of darkness, the player is more likely to be attacked by hostile mobs. Therefore, it is worth preparing for a meeting with them in advance.
The fact is that from now on Steve will receive damage and this significantly complicates the entire gameplay.
Zombie
Changing the cycle of day and night will not seem such a pleasant moment if you know that in the dark the player can be attacked. In Minecraft 0.2.0, a new kind of mob appears – these are zombies.
Users can meet them only when the daylight is over, that is when they become the strongest. Players can damage them, but they are much stronger and more resilient than Steve. Moreover, these creatures usually attack in groups.
The pursuit will continue until dawn, but as soon as the first rays of the sun touch the surrounding world, the zombies will start burning. These creatures leave behind a loot of rotten flesh. It is worth preparing well for a meeting with these creepy creatures.
Mobs
But not only do aggressive mobs appear in Minecraft PE 0.2.0. Players can also meet a quite harmless sheep and pigs on their way. These are kind and friendly creatures that will spawn all over the area.
The player will not receive any harm from them, but on the contrary, he can use them to get wool and meat. Explore all the possibilities of the updated world and get the opportunity to create your own adventures.
What game modes have appeared in MCPE 0.2.0?

Survival and creativity mode.

When can you meet zombies in Minecraft PE 0.2.0?

Zombies spawn at night, so you can not be afraid to meet them during the day.

What friendly mobs can the hero meet?