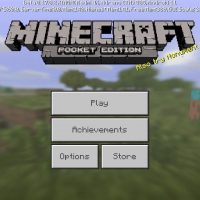 Minecraft PE 0.17.0.2
Download Minecraft PE 0.17.0.2
Download
Download Minecraft 0.17.0.2 for free on Android: End dragon, elytra, beautiful blocks for construction and decoration.
What is interesting in Minecraft PE 0.17.0.2?
The Mojang team lets players visit a new dimension with a strong boss and additional locations in Minecraft 0.17.0.2. Steve can find dragons and shulkers there. This location is in yellow and purple shades, which looks creepy.
Mobs
Steve can meet the End dragon in Minecraft PE 0.17.0.2. This giant mob will fly and take power from the End crystals, so players need to try to destroy these stones.
Shulkers are other aggressive mobs in these places. They have dangerous weapons in the form of balls with a levitation effect. Everyone who is attacked will rise into the air.
This creature has a shell for protection. And its purple color allows you to mask well against the background of the edge city.
Outer End
After defeating the End dragon, the Minecraft 0.17.0.2 players can return to these territories, collect End stones, obsidian, and grow pearls. After the dragon's death, a portal will appear somewhere on the main island. It leads to the Outer End.
There are chorus flowers and fruits, and also the End cities. There are dangerous shulkers who guard chests with resources.
By the way, you can create boxes from the shells of these mobs.
Elytra and other items
If the player finds the End Ship in Minecraft PE 0.17.0.2, he is lucky because there are a lot of resources there. After killing one shulker, Steve will be able to open a chest with loot. Here the player can get elytra.
By the way, there is a dragon's head on the End ship.
Elytra will help layers to fly. Just jump down, tap jump again, and fly in any direction.
Interface
Any player who has installed Minecraft 0.17.0.2 will notice the new game menu. It is similar in style to the Java edition. However, the developers have left the opportunity for players to return to the old interface.
What items players can find in the End city?

Players can find purple glass, stairs, chests, and obsidian there.

How to fly with elytra?

Players should jump down, tap jump again, and fly.

Where can Steve find elytra?

These items are on the End Ship.
Minecraft PE 0.17.0.2 Download