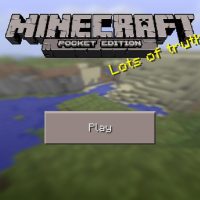 Minecraft PE 0.13.2
Download Minecraft PE 0.13.2
Download
Download Minecraft PE 0.13.2 Free for Android: explore the Underworld or the desert, find treasures or tame a wolf.
What is new in Minecraft 0.13.2?
In Minecraft PE 0.13.2, developers have changed the texture of zombie pigmen, and the ghasts have a new animation.
Users can safely explore the Lower World without fear for the performance of the device. The developers have also fixed the problem associated with entering a new dimension.
The cubic world is filled not only with new blocks and mechanisms but also with a sound component. In this update, cows, chickens, scales, and pigs got their sounds.
Animals
In Minecraft 0.13.2, a hero can meet new animals – these are rabbits. Their color depends on the habitat. They can be red or brown and in the taiga – white.
Rabbits move very quickly, so it is not easy to catch them, but also to see them. Interestingly, now the player can tame a rabbit with a regular or golden carrot.
These cute animals are hunted by wolves. These animals move in packs of three individuals. They can also be tamed by giving the wolf a bone. After that, the mob will protect the owner.
Desert
In the desert, heroes can see them well, but it has only a decorative function in Minecraft PE 0.13.2. But what is worth looking for in this biome is a Deserted Temple. In it, the player can find four treasure chests at once.
They are not guarded by anyone, but you should still be careful. After all, there is a dynamite trap in the temple that can blow up the hero and everything around.
The possibilities of red stone
A really big discovery for all players in Minecraft 0.13.2 will be the red stone. With the help of his energy, the hero can activate mechanisms or create lighting on the street or indoors.
At one end of the surface, the hero can put a lever, then scatter red dust and install a lamp at the other end.
Where can the hero find the Temple?

How can a player tame a wolf?

How often are temples found in the desert?

They are not rare, but the hero will have to look for them.
Download Minecraft PE 0.13.2