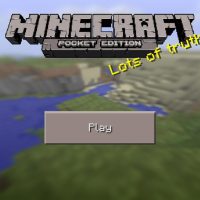 Minecraft PE 0.13.0
Download Minecraft PE 0.13.0
Download
Download Minecraft PE 0.13.0 Free for Android: try to create your own unique mechanisms, watch out for rabbits and visit a deserted temple.
What is interesting in Minecraft 0.13.0?
Incredible possibilities in the construction of various mechanisms are available to players in Minecraft PE 0.13.0. All mechanisms are set in motion with the help of a red stone.
A cute rabbit mob appears in the game. But players should be on the alert because this animal can eat the whole crop.
For those who like to decorate the space, the developers have added 7 types of doors at once, for each of which there is a craft recept.
Temple in the desert
Players can find this building in Minecraft 0.13.0 in the Desert. It looks like an unremarkable temple, but four treasure chests are stored inside it.
The main thing to remember is that there is a trap in the middle of the structure and it is better for the player not to pass there.
New mobs
In Minecraft PE 0.13.0, developers have added several animals. One of them is a rabbit, he is very timid and will run away when the hero approaches him. If the player still manages to kill him, then he can get raw meat. It can then be cooked.
Horses and donkeys also appear in the game. Outwardly they do not differ, it is possible to transport goods on donkeys.
Blocks and items
A fairly large selection of various useful items is available for players in Minecraft 0.13.0. First of all, this is a red stone, with which all mechanisms are activated. The player can extract it from the ore at the lower levels.
The following devices are directly related to lighting: a lamp, a daylight sensor, and a red torch.
The hero can use tension sensors and a lever for the construction and protection of various buildings.
Also, important items will be pressure rails, trap chest, buttons, and plates. And especially for music lovers, a music block is available in the game.
Where can the hero find the Temple?

What happens if a thief opens a trap chest?

The chest will give a signal.

How often are temples found in the desert?

They are not rare, but the hero will have to look for them.
Download Minecraft PE 0.13.0