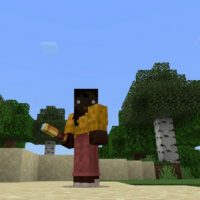 Spyglass Texture Pack for Minecraft PE
Version MCPE: 1.19.0 - 1.20.15
Download
Download Spyglass Texture Pack for Minecraft PE: change the user interface of one of the items and create funny pictures with it.
What is interesting in Spyglass Texture Pack?
The gameplay in Minecraft PE should always remain interesting and diverse. That is why developers release various updates every day, which sometimes have no practical use, but at the same time will help to have great fun.
This time, the authors of the Spyglass Texture Pack have changed the user interface, that is, the picture that the characters see when using this item. It turned out pretty cute and funny, and now you can create unusual images and share them with friends.
Spyglass
This item has appeared in Minecraft PE for quite a long time, but not all players know how to use it, as well as how to get it. The authors of the Spyglass Texture Pack have replaced the picture that players see when using it.
Naturally, the easiest way is to find it in the Inventory of the Creative Mode. Also in Survival, to craft a spyglass, you will need to connect 1 fragment of amethyst and 2 copper ingots.
It is quite easy to extract copper ore because this valuable resource is often found at a relatively shallow depth. But to find the fragment, you will have to go to the amethyst geodes. These are unique structures underground, consisting of purple crystals.
Changes
After the player gets a telescope, it is enough to simply use it as usual to see the changes. The fact is that in the window that appears, where the Minecraft PE player zooms in on the object, an inscription will appear.
It is not even an inscription, in one word What with a question mark at the end. But if, for example, you focus on an animal or a villager in close-up, it turns out quite funny and unusual.
Have fun with your friends and make the gameplay even more interesting right now with Spyglass Texture Pack.
What if the Spyglass Texture Pack does not work?

Try to activate the experimental game mode.

Can I use it on servers?

Yes, you are free to use it on public servers.

How do I install this texture pack?

The file is in .mcpack extension, so just tap on the file to automatically install the modification.
download anchor
Download Spyglass Texture Pack for Minecraft PE