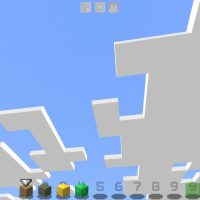 Hotbar Texture Pack for Minecraft PE
Version MCPE: 1.16.0 - 1.20.41
Download
Download Hotbar Texture Pack for Minecraft PE: the new appearance of the quick access toolbar, as well as indicators of health, satiety, and armor.
What is interesting in Hotbar Texture Pack?
The authors of the Hotbar Texture Pack offer players the to update the appearance of the game. Of course, the standard design is very convenient, but sometimes you want to change something and add new colors.
These updates will refresh the appearance of the quick access toolbar, and make it iridescent, transparent, or even animated. Every Minecraft PE user will be able to find something interesting and unusual for themselves.
Evaluate the changes right now and choose the appropriate option for yourself.
Better
In this update for the Hotbar Texture Pack, the developers have completely removed the edging of the slots. Now they will look stylish and unobtrusive. In addition, the appearance of health indicators, satiety, and armor has been changed. Funny images of pizza or small billboards appeared on them.
The colors that the authors used are brighter. Rather than in the standard Minecraft PE, so players will have a cheerful mood and a relaxed atmosphere. The add-on is completely universal and suitable for both survival mode and PvP battles.
Custom
Twenty-three new design options for the quick access toolbar are offered to players by the developers of this add-on for the Hotbar Texture Pack. Two will be animated, and the rest will suit user requests.
For example, images of creepers, rainbows, or completely invisible panels. In any case, this is a great opportunity to change something in Minecraft PE, and make it unique and unusual.
Create a style that will reflect your interests and preferences. The settings menu can be found when installing the add-on, click on the gear image and select the option you like. By the way, you can change it at any time.
What if the Hotbar Texture Pack does not work?

Try to activate the experimental game mode.

Can I use it on servers?

Yes, you are free to use it on public servers.

How do I install this texture pack?

The file is in .mcpack extension, so just tap on the file to automatically install the modification.
Download Hotbar Texture Pack for Minecraft PE