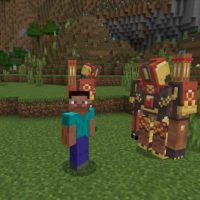 Golem Texture Pack for Minecraft PE
Version MCPE: 1.19.0 - 1.20.15
Download
Download Golem Texture Pack for Minecraft PE: transform the appearance of the inhabitants of the cubic world and make them look like robots.
What is interesting in Golem Texture Pack?
Many Minecraft PE users are fans of another rather popular and interesting game called Overwatch. Her genre of the heroic shooter is very different from the one presented in the cubic world.
Therefore, the characters in it are used completely differently. The authors of the Golem Texture Pack decided to replace the standard creatures with robots. At the same time, they will not receive any new functions, only their appearance will change.
But at the same time, it perfectly transforms the whole process of the game and makes it unusual and interesting.
Golems
As every cube world user knows, Golems can be found in the game only by going to the village. It is there that these creatures live and spend all their time moving around their territory.
Their main task in Minecraft PE is to protect the local population from all kinds of threats. It can be zombies at night or robber raids during the day. They are also created, that is, by correctly placing the blocks in a certain order, the player can independently create such a creature. In Golem Texture Pack, all these options remain unchanged.
Robots
Another way to get these mobs: using the command. It is enough to enter /summon minecraft:iron_golem and a new inhabitant will immediately appear on the site. At the same time, after installing the Golem Texture Pack, its appearance will become completely unrecognizable.
This update presents 7 design options for these mobs and they all look cool and unusual. Similar to giant robots, they create a completely new and unusual atmosphere in Minecraft PE.
Use such opportunities to prank your friends and diversify the gameplay.
What if the Golem Texture Pack does not work?

Try to activate the experimental game mode.

Can I use it on servers?

Yes, you are free to use it on public servers.

How do I install this texture pack?

The file is in .mcpack extension, so just tap on the file to automatically install the modification.
download anchor
Download GolemTexture Pack for Minecraft PE