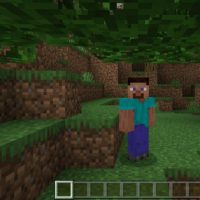 Compass and Clocks Texture for Minecraft PE
Version MCPE: 1.16.0 - 1.20.15
Download
Download Compass and Clocks Texture for Minecraft PE: use useful items to navigate in space and always make the right decisions.
What is interesting in Compass and Clocks Texture?
Every user has at least once found himself in a situation where it is unclear exactly where he is or how much time there is before nightfall. The authors of Compass and Clocks Texture have added special items directly to the main screen.
They will help you navigate and always choose the right path.
 Two Items
Those players who install this update for Compass and Clocks Texture will not need to spend valuable resources such as gold or iron to create items that help navigate in space.
The fact is that now both the clock and the compass will be constantly presented in the upper right corner of the screen, regardless of the camera position, from the first or third person. The Minecraft PE user will be able to monitor the readings and make the right decisions in time.
Compass and Clocks
The authors of this update for Compass and Clocks Texture have added a recovery compass to the two main items. All items are now placed vertically in the lower left corner. Now there is no need to guess exactly where the player is or when the night will come, you can always have all the exact data.
Such unique features will help each Minecraft PE user to always make timely decisions and coordinate their actions, thanks to existing data.
Compass-Radar
This time, the authors have combined a standard compass with radar and suggest using this device during survival in Minecraft PE. All new items are in the Creative Mode Inventory and can be used immediately after installation.
The functionality of the device that adds this addition to the Compass and Clocks Texture is that it detects any life forms in a certain radius around the player. Depending on the material from which the device is created, its capabilities will change.
How do I install this Compass and Clocks Texture?

The file is in .mcaddon extension, so just tap on the file to automatically install the modification.

Can this texture be run in a multiplayer game?

Yes, for this it is enough just to be the owner of the map and install this modification on it.

What if the texture does not work?

Try to activate the experimental game mode.
download anchor
Download Compass and Clocks Texture for Minecraft PE