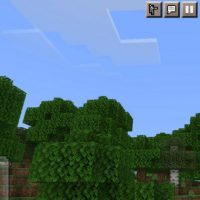 Better Hearts Texture Pack for Minecraft PE
Version MCPE: 1.16.0 - 1.20.15
Download
Download Better Hearts Texture Pack for Minecraft PE: update the game interface and make it unique and unusual right now.
What is interesting in Better Hearts Texture Pack?
Developers rarely change the interface of the game and many Minecraft PE players want variety. Therefore, the authors suggest using the Better Hearts Texture Pack.  In it, they managed not only to update the appearance of some important indicators on the screen. They also made them customizable.
It is the ability to somehow influence how the game screen will look that is sometimes not enough for every user. And this addition fully allows the characters to show their own style.
Colored
As players know, each user during the game should monitor the health indicators of his hero. As a standard, this strip consists of red hearts, but the authors of the Better Hearts Texture Pack decided to modify it.
Moreover, by giving Minecraft PE players the opportunity to independently decide how it will look. When installing the update, click on the gear icon and select one of the eight colors. Set your favorite option or change it every day.
In any case, this is a chance to customize the interface and give it a unique and inimitable style. After all, sometimes even the smallest changes can bring something new and unusual to the gameplay, inspiring the player to create something new and previously unused.
Better Hearts
The author of this update for the Better Hearts Texture Pack decided not to stop updating the appearance of only the health strip and also made changes to the armor and hunger indicator.
Now they look more modern and bright. It will be convenient for Minecraft PE players to monitor them and always make a decision on the necessary actions in time. This is a great opportunity to customize the interface for yourself.
What if the Better Hearts Texture Pack does not work?

Try to activate the experimental game mode.

Can I use it on servers?

Yes, you are free to use it on public servers.

How do I install this texture pack?

The file is in .mcpack extension, so just tap on the file to automatically install the modification.
download anchor
Download Better Hearts Texture Pack for Minecraft PE