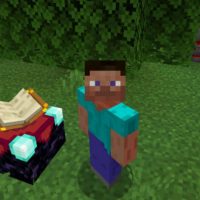 Animated Texture Pack for Minecraft PE
Version MCPE: 1.2.0 - 1.20.15
Download
Download Animated Texture Pack for Minecraft PE: make the world brighter and livelier with the new block animation.
What is new in Animated Texture Pack?
In Minecraft PE, everything that surrounds the hero in the game has a rather unrealistic appearance. This is due to the fact that there is practically no animation added to the surrounding objects.
The creators of the Animated Texture Pack have solved this problem, now all the blocks, foliage on trees, grass, and even Steve himself will get completely realistic movements.
Blocks and Items
The authors of the Animated Texture Pack have added a motion effect to more than 70 objects in Minecraft PE. This is really amazing because it is impossible to imagine the real world as static, now there will be such an opportunity in the cubic world.
Every blade of grass leaves on trees will move as if from a light wind. By the way, a large number of different plants, flowers, and even blocks have received their own animation.
It looks amazing when colors shimmer on a block of diamond ore. A completely realistic and very beautiful picture is created.
Player
In addition to the fact that inanimate objects in Minecraft PE need movements, such as flowers or grass, the main character himself needed a new animation.
Now when Steve flies, swims, or rides, his movements will be more natural. The legs and arms bend and in general, a completely realistic impression is created.
Animated Texture Pack allows you to take a fresh look at the gameplay itself, and qualitatively change it, while the main picture remains the same.
New Animation
Another update for Minecraft PE creates an incredible gaming space. Literally, all objects now look natural and realistic thanks to Animated Texture Pack.
The fire on the torch and in the furnace received natural movements, the pages of the enchanted book moved as if from a light breeze. The stones on the ore blocks are shimmering, even the music block has received special movements that give the impression that music is playing.
Can this texture pack be run in a multiplayer game?

Yes, for this it is enough just to be the owner of the card and install this modification on it.

Can I use it on servers?

Yes, you are free to use it on public servers.

How to install these textures?

Download and open it in Minecraft PE.
download anchor
Download Animated Texture Pack for Minecraft PE