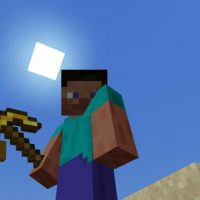 Aggressive Weapons Texture Pack for Minecraft PE
Version MCPE: 1.16.0 - 1.20.40
Download
Download Aggressive Weapons Texture Pack for Minecraft PE: a new look of familiar items that will help in the process of survival.
What is new in Aggressive Weapons Texture Pack?
In the process of mastering the boundless world of Minecraft PE, players often have to attack and defend themselves. Many dangers await them on the way, especially at night. A lot of unfriendly mobs roam the territory and can be extremely dangerous.
Also, in case of victory over various creatures, the hero can get useful loot from them. Therefore, the question arises about what items and weapons each player should have in his arsenal. Aggressive Weapons Texture Pack does not change the technical characteristics of objects, but only changes their appearance.
Opportunities
In the process of survival, many players try to use various items that will help them explore the surrounding space with fewer losses. To do this, they use swords, crossbows, bows, and much more.
The author of Aggressive Weapons Texture Pack has changed these objects in such a way that their appearance alone immediately inspires fear in opponents. At the same time, all other characteristics of strength remained unchanged.
Thus, Minecraft PE players can use the usual weapons, which now look very impressive. Use all the possibilities to make the gameplay memorable and interesting.
Graphics
Thanks to the addition of new details and beautiful design, familiar objects begin to look completely different. Aggressive Weapons Texture Pack allows you to take a fresh look at the process of survival and protection.
Use new objects to become invincible in Minecraft PE. New opportunities will open up to those players who download this update. After all, small changes are often enough to make the gameplay sparkle with new colors.
What if the Aggressive Weapons Texture Pack does not work?

Try to activate the experimental game mode.

Can I use it on servers?

Yes, you are free to use it on public servers.

How do I install this texture pack?

The file is in .mcpack extension, so just tap on the file to automatically install the modification.
Download Aggressive Weapons Texture Pack for Minecraft PE