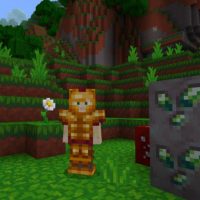 Woodpecker Texture Pack for Minecraft PE
Version MCPE: 1.16.0 - 1.19.63
Download
Download Woodpecker Texture Pack for Minecraft PE: add medieval atmosphere and cartoon elements to the cubic world.
What is interesting in Woodpecker Texture Pack?
The author of Woodpecker Texture Pack has added the atmosphere of the Middle Ages to Minecraft PE. At the same time, all the elements do not look rough, on the contrary. The colors are quite bright and saturated, such as they are in animated films.
This wonderful update will help to add a cheerful mood to the game space and diversify the process with a new kind of familiar elements.
New blocks
Experienced Minecraft PE users have already seen a huge variety of different updates that have made changes to the appearance of game elements.
This time the author of Woodpecker Texture Pack created a mixture of medieval and cartoon atmosphere, thereby creating a very memorable and interesting picture.
Blocks and objects of the cubic world have received excellent detail. Each of them has a completely different pattern, and sometimes several types of colors. The blocks received a lot of small elements and details.
In order to completely create the right mood, the author even replaced the interface windows, buttons, and the main menu. Such an update will definitely be remembered for a long time because it looks really unusual.
Armors
In addition to the blocks in this update, the changes also affected weapons and armor. The color and shape of the equipment have been changed, and the colors have become brighter and richer.
The hero in this outfit looks like a cartoon medieval hero who goes on an exciting journey or defends his own castle from enemies. Any story becomes incredibly fascinating in such a world.
With Woodpecker Texture Pack, every Minecraft PE user has the opportunity to create their own unique world, just download this update and enjoy the amazing changes.
Can this texture pack be run in a multiplayer game?

Yes, for this it is enough just to be the owner of the card and install this modification on it.

Can I use it on servers?

Yes, you are free to use it on public servers.

How to install these textures?

Download and open it in Minecraft PE.
Download Woodpecker Texture Pack for Minecraft PE