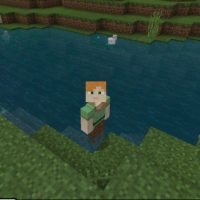 Water Texture Pack for Minecraft PE
Version MCPE: 1.0.0 - 1.20.15
Download
Download Water Texture Pack for Minecraft PE: visit an amazing new world in which all the reservoirs will look just amazing.
What is new in Water Texture Pack?
In each update, the developers try to create a more perfect and realistic world. One of the important components of the game space in Minecraft PE is water resources.
The creators of Water Texture Pack have tried to completely change the structure and graphics of all reservoirs in the cubic world. It creates an atmosphere of incredible comfort and pleasure from the time spent in your favorite game.
Deluxe
In this update for Water Texture Pack, the developers managed to create an incredible picture of the world. All reservoirs have changed their color and the most important thing is that they will change depending on the biome in which it is located.
The colder the biome, the darker the color of the water will be. Thanks to these changes, Minecraft PE gets more realistic, the graphics are improved and, in general, the picture becomes more realistic.
By the way, the fog has also changed. Its density and composition will also vary depending on the terrain. For example, it will be denser in the jungle, dust will be present in the desert, and frost particles will be present in cold biomes.
Clean
With this update for the Water Texture Pack, players will be able to enjoy incredibly clear and clean reservoirs. Now it will be easy for players to find treasures or buildings that are deep underwater.
And with the help of the night vision function, which the developers have also added to this update, it will be even easier to find valuables in dark caves. Now you would not need torches or any special lighting, the hero will see even in the darkest locations.
Incredibly exciting underwater adventures in Minecraft PE await every hero, just install the update and hit the road.
How to install these textures?

Download and open it in Minecraft PE.

Can I use it on servers?

Yes, you are free to use it on public servers.

Can this texture pack be run in a multiplayer game?

Yes, for this it is enough just to be the owner of the card and install this modification on it.
download anchor
Download Water Texture Pack for Minecraft PE