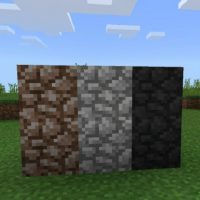 Stone Texture Pack for Minecraft PE
Version MCPE: 1.2.0 - 1.20.41
Download
Download Stone Texture Pack for Minecraft PE: use the updated blocks to make the buildings look even more interesting and beautiful.
What is new in Stone Texture Pack?
Many Minecraft PE users spend more than one-hour playing in the construction and creation of new structures. Blocks that have received changes in the Stone Texture Pack are used by players most often.
They are versatile and suitable for most buildings, besides they are quite easy to find in the vast cubic world. The developers decided to improve their appearance and bring something new and unusual to it.
Full
The developers of Mojang Studios have created stone blocks with a divided strip in the middle. Minecraft PE players did not understand why this was done, perhaps to give volume or an unusual look to these structures.
In any case, the developers of the Stone Texture Pack decided to change this pattern and remove the separation. A small change can change the overall appearance of the construction of such objects.
Heroes can embody their ideas in construction and create new and unusual houses.
Better
Going to the mining area, Minecraft PE players will immediately notice how the space around them has changed. The fact is that the developers of the Stone Texture Pack decided to update the appearance of granite, andesite, and diorite.
Usually, rather boring and inconspicuous blocks will get very interesting graphics. This will allow them to be used more often in construction and even design.
The fact is that usually, these materials are not very popular among users. Mainly because their buildings of them do not look beautiful and are monotonous.
It is worth noting that stairs, fences, and other objects made of these materials will also receive an updated design. Rate the updates right now. Just start creating something new and unusual.
What if the Stone Texture Pack does not work?

Try to activate the experimental game mode.

Can I use it on servers?

Yes, you are free to use it on public servers.

How do I install this texture pack?

The file is in .mcpack extension, so just tap on the file to automatically install the modification.
Download Stone Texture Pack for Minecraft PE Texture Pack