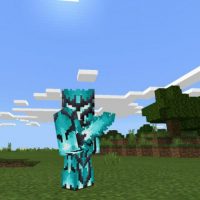 Soul Texture Pack for Minecraft PE
Version MCPE: 1.16.0 - 1.20.15
Download
Download Soul Texture Pack for Minecraft PE: use unique items, as well as armor and cool weapons in the process of survival.
What is interesting in Soul Texture Pack?
Without waiting for the moment when developers add new items to the gameplay, the authors themselves change the appearance of existing objects or add completely new ones.
Such changes most often simplify the process of survival in Minecraft PE, unless of course, the player will be able to craft them. The creators of Soul Texture Pack warn the heroes that the Experimental game mode is extremely necessary for the correct operation of the entire update.
Updated textures
The author of Soul Texture Pack managed to create a really interesting and unusual update. The fact is that now items and weapons, as well as armor from the most diverse resources will become completely different.
The appearance, for example, of the equipment will be so interesting that Minecraft PE players will be amazed by its uniqueness. It is worth noting that all items will receive more modern textures and at the same time will become a real decoration of any collection.
By the way, the changes affected only the appearance, all the functionality and mechanics of interaction will remain absolutely the same.
Armor from netherite
Players need to pay special attention to all objects that are created from netherite.  The heroes will get an excellent set of armor at their disposal. It looks futuristic and will make the image of the warriors truly memorable.
At the moment, during various battles in Minecraft PE, players can get confused because the armor is not very diverse. Now, thanks to the Soul Texture Pack, each user has the opportunity to stand out during PVP battles.
Items
Most of the items that the Soul Texture Pack adds to the game have an extremely memorable structure. By the way, it will not be difficult to find them all. All new tools and weapons are easy to find in the Inventory of the Creative Minecraft PE Mode.
What if the Soul Texture Pack does not work?

Try to activate the experimental game mode.

Can I use it on servers?

Yes, you are free to use it on public servers.

How do I install this texture pack?

The file is in .mcpack extension, so just tap on the file to automatically install the modification.
download anchor
Download Soul Texture Pack for Minecraft PE