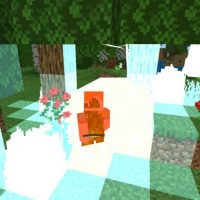 RGB Texture Pack for Minecraft PE
Version MCPE: 1.16.0 - 1.20.15
Download
Download RGB Texture Pack for Minecraft PE: add more diverse colors to the cubic world and make the lighting interesting and unusual.
What is interesting in RGB Texture Pack?
To diversify the gameplay, update developers use a variety of ways. For example, they add various new items or mobs to Minecraft PE.
Another way is directly related to the design and lighting of the cubic world. That is exactly what the author of RGB Texture Pack did. You can evaluate these features right now, just install one of these add-ons.
Light
If the standard lighting in Minecraft PE seems too boring and ordinary to users, they can install this add-on for RGB Texture Pack. Now it will be even more interesting to watch the lava. The fact is that this dangerous liquid will begin to shimmer in different colors: red, blue, green, and many others.
It looks truly amazing. But in addition, the glow from the fire, lantern, pumpkin, lamp with redstone, and other lighting devices will change. Make the night cube world incredibly attractive.
Players can use such opportunities, both in Survival mode and in Creativity. In any case, it looks very cool.
Hotbar
This time the changes will affect the Quick Access toolbar and other menu windows. Now the frames will shimmer with all the colors of the rainbow, which will create a lighter and more relaxed atmosphere in Minecraft PE.
It is enough just to install this update for RGB Texture Pack and enjoy a beautiful interface that has never been seen before in the cubic world. Perhaps such changes will inspire users to create something new and unusual.
It is worth noting that the animation used is as detailed as possible. It consists of 40 frames with color transfusion. Also, if players want to use HD textures, this update is compatible with them. Do not forget to turn on the Experimental game mode to take advantage of all the innovations and enjoy them in full.
What if the RGB texture pack does not work?

Try to activate the experimental game mode.

Can I use it on servers?

Yes, you are free to use it on public servers.

How do I install this texture pack?

The file is in .mcpack extension, so just tap on the file to automatically install the modification.
download anchor
Download RGB Texture Pack for Minecraft PE