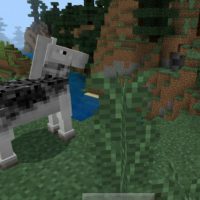 Horse Texture Pack for Minecraft PE
Version MCPE: 1.4.0 - 1.19.63
Download
Download Horse Texture Pack for Minecraft PE: change the appearance of some mobs that can be very useful in the process of survival.
What is new in the Horse Texture Pack?
The authors of Horse Texture Pack were inspired by the kindest and most useful pets, which in Minecraft PE also help players in mastering the boundless world. They can be saddled, tamed, and even bred.
This time their appearance will be changed, as well as new secret features that will appeal to all lovers of these good-natured creatures. Exploring the expanses of the cubic world in the company of a loyal friend will be even more interesting.
Old Style
The developers of Mojang Studios are constantly making various changes to the appearance of animals that players can meet on their way. But not all players may like it.
This update for Horse Texture Pack allows you to return to the usual appearance of mobs. The mane and tail will look the same as in earlier versions of the game. The rest of the functions in Minecraft PE will remain unchanged.
Horse Keeper
The most famous lovers of this type of animal are, of course, cowboys. In films about these desperate heroes, there are always many different weapons options and they move exclusively on horseback.
Horse Texture Pack will provide an opportunity to feel like one of them. Players will even be able to rename the animal using the unicorn command and then the horse will have a horn on its head. The update contains a variety of items typical of the Wild West.
These are revolvers and lasso, as well as whiskey, which replaced a bucket of milk and a cigar. Also, if users change the name of the armor rack, they can get a piano that can even play or a windmill.
Players can create an atmosphere of exciting adventures in Minecraft PE right now. Hit the road and do not forget to take a loyal friend.
What if the Horse Texture Pack does not work?

Try to activate the experimental game mode.

Can I use it on servers?

Yes, you are free to use it on public servers.

How do I install this texture pack?

The file is in .mcpack extension, so just tap on the file to automatically install the modification.
Download Horse Texture Pack for Minecraft PE