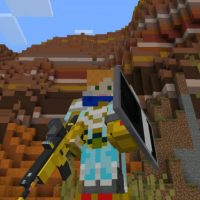 Gun Texture Pack for Minecraft PE
Version MCPE: 1.14.0 - 1.19.63
Download
Download Gun Texture Pack for Minecraft PE: evaluate new options for more modern and convenient weapons.
What is new in Gun Texture Pack?
For those players who want to replace the standard weapons in Minecraft PE with something more modern, Gun Texture Pack is perfect. It replaces the bow and crossbow with cooler options.
The authors managed to recreate copies of assault rifles and submachine guns in as much detail as possible, which will be available for use. Arrange cool battles with friends or go on a trip.
At the same time, every player can now meet even the most dangerous opponents without fear. Just download this update and enjoy the incredible features.
Brutal
The author of this update for Gun Texture Pack was able to create a great update. In it, standard variants of weapons will be replaced with more modern and convenient models.
Players just need to open the Creative Mode Inventory and choose one of two new items. Each of which repeats as accurately as possible a double-barreled shotgun or revolver. Interestingly, not only the appearance has changed, but also the sounds that are heard in Minecraft PE when reloading or firing will correspond to modern weapons.
More Items
Even more, opportunities to use weapons are provided to Minecraft PE players by this update for the Gun Texture Pack. Players will be able to evaluate full-fledged 3D models that will replace the bow, crossbow, and diamond armor.
The authors have done a great job to create copies of assault rifles and submachine guns. It is worth noting that not only the heroes will have new weapons, but also the robbers. The standard diamond outfit will now look more like a combat suit.
This will help to create a complete image of a warrior who will not be afraid of any opponents. This will help to create a holistic image of a warrior who will not be afraid of any opponents. By the way, players will be able to fully enjoy the gameplay, thanks to new cool weapons.
What if the Gun Texture Pack does not work?

Try to activate the experimental game mode.

Can I use it on servers?

Yes, you are free to use it on public servers.

How do I install this texture pack?

The file is in .mcpack extension, so just tap on the file to automatically install the modification.
Download Gun Texture Pack for Minecraft PE