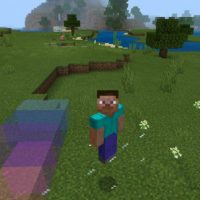 Glass Texture Pack for Minecraft PE
Version MCPE: 1.6.0 - 1.20.15
Download
Download Glass Texture Pack for Minecraft PE: create new buildings using modified blocks.
What is new in Glass Texture Pack?
Minecraft PE users are always waiting for some new products and updates in their favorite game. And the developers are trying to fill the cubic world with more perfect objects and objects.
New functions are added, and the appearance and capabilities of the hero are changed. Special attention is paid to mobs that get different abilities and appearances.
With the Glass Texture Pack, it will be much more convenient for players to build beautiful and functional buildings. The creators have tried to change the blocks in such a way that they look very modern and memorable.
Clearer
Many heroes in Minecraft PE like to build various houses and buildings. Sometimes users can see really impressive and very functional buildings that amaze with their beauty and thoughtfulness of details.
Naturally, windows are one of the important components in the construction of any house. It is they who give the overall appearance of completeness and add natural light to the room.
Of course, it is very important that the blocks from which they are made are very well thought out and combined with each other. The authors of the Glass Texture Pack have created blocks of glass that do not have a frame.
Indeed, earlier in the cubic world it was impossible to build a window from several blocks so that it looked like one whole. Now every user has such an opportunity.
Connected
Together with this update for the Glass Texture Pack, the hero can build an incredible shelter in Minecraft PE and watch what happens outside without fear of taking damage. The fact is that the windows will now be completely transparent and without any boundaries between the blocks.
It is amazing how many incredible ideas in the construction of buildings users can bring to life with this texture pack.
How to install these textures?

Download and open it in Minecraft PE.

Can I use it on servers?

Yes, you are free to use it on public servers.

Can this texture pack be run in a multiplayer game?

Yes, for this it is enough just to be the owner of the card and install this modification on it.
download anchor
Download Glass Texture Pack for Minecraft PE