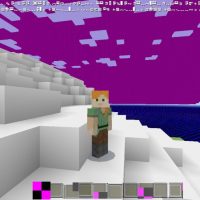 Error Texture Pack for Minecraft PE
Version MCPE: 1.18.0 - 1.19.83
Download
Download Error Texture Pack for Minecraft PE: make the world around you unrecognizable, prank your friends, and surprise them.
What is interesting in Error Texture Pack?
The world of Minecraft PE has a very characteristic structure, colors, and shades. Game developers periodically make changes and adjustments, but they always retain the original style of the cubic world.
The authors of Error Texture Pack completely change the entire space, making it unusual and very strange. With the help of the same changes, you can play friends and completely change the idea of the gameplay.
At the same time, it is recommended to use such an update with caution, because the consequences may be unforeseen and they cannot be canceled.
Main Features
It's hard not to notice the changes that will occur in Minecraft PE after installing the Error Texture Pack. First of all, players will see the changed loading window, inventory, and quick access panel.
Also, the font will become unrecognizable and it will be impossible to make out what is written in it. Looking around, the hero will notice a bright pink sky. Trees and grass will not change their color, but the surface of reservoirs will be unrealistic.
The authors of this update practically broke all the textures, making them incomprehensible and strange. It will take players quite a long time to get used to them, and perhaps it will never happen.
Opportunities
It's hard to imagine for what purposes Minecraft PE players can use Error Texture Pack. But it will come in handy to play friends. An unprepared user may even decide that the gameplay is impossible.
Use such an update with caution, because it can lead to the most unpredictable consequences. The authors warn about this in advance and do not bear any responsibility for possible changes in the cubic world.
What if the Error Texture Pack doesn't work?

Try to activate the experimental game mode.

Can I use it on servers?

Yes, you are free to use it on public servers.

How do I install this texture pack?

The file is in .mcpack extension, so just tap on the file to automatically install the modification.
Download Error Texture Pack for Minecraft PE