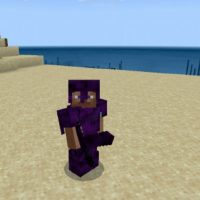 Diamond Texture Pack for Minecraft PE
Version MCPE: 1.14.0 - 1.20.41
Download
Download Diamond Texture Pack for Minecraft PE: use armor and weapons that now look incredibly cool and unusual.
What is new in Diamond Texture Pack?
One of the most expensive gems in the world served as the basis for the creation of various items in Minecraft PE. Players appreciate them for their durability and very stylish look. The authors of the Diamond Texture Pack decided to improve these items and make them even more unique and unusual.
It will be even easier to create your unique image because there has never been anything like this in the cubic world. The update was created specifically for one of the maps. But later the developer decided to make it publicly available.
Corrupted
This update for Diamond Texture Pack will make all items, weapons, and armor in Minecraft PE made of this material incredibly cool and intimidating. The new version combines a creepy look with a dark shade that will make any image unique.
It is enough to try on a new outfit and take a diamond sword or an ax and appreciate how incredible the hero looks. Appearance is important in any battle, and now the enemies will not have a single chance to win.
Make the image of the hero absolutely unique with these textures, which are created for the most daring journeys.
Purple
For all fans of the purple hue, the authors have created a unique update for the Diamond Texture Pack. Not only weapons and blocks made of this material will get a new color, but even horse armor.
This will help to make the image of the hero unique and inimitable. In the world of Minecraft PE, there were no other items that would look like this.
The authors have worked out every element of the updated objects perfectly and made them very interesting and unusual. And the updated blocks can be used to decorate your home or the surrounding space.
Now it will be much easier to create a unique design, just install this update.
What if the Diamond Texture Pack does not work?

Try to activate the experimental game mode.

Can I use it on servers?

Yes, you are free to use it on public servers.

How do I install this texture pack?

The file is in .mcpack extension, so just tap on the file to automatically install the modification.
Download Diamond Texture Pack for Minecraft PE