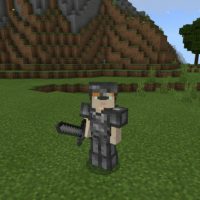 Cobblestone Texture Pack for Minecraft PE
Version MCPE: 1.11.0 - 1.19.83
Download
Download Cobblestone Texture Pack for Minecraft PE: evaluate how the standard armor has changed or try to build something from the updated blocks.
What is new in Cobblestone Texture Pack?
The authors of various updates for Minecraft PE surprise users with unusual ideas every time. Sometimes they change the appearance or characteristics of mobs or the surrounding space.
This time we decided to add a new look to ordinary cobblestone blocks. Each player has seen this material under his feet and in various buildings more than once. Now an armor made of it will appear.
By the way, the standard appearance of the material in the Cobblestone Texture Pack will also be changed. This will allow users to take a fresh look at the idea of building structures from it.
Armor
The author of this update for Cobblestone Texture Pack decided to replace the standard appearance of chain mail armor. Now it will look as if it is made of the smallest pebbles.
This will help you easily hide from the enemy because in the cubic world there are many buildings made of this material. Now the player will be able to attack the enemy unnoticed or remain unnoticed.
It is worth noting that even though the equipment changed externally, it did not affect its protective properties. Thus, Minecraft PE players will get a wonderful protective clothing option.
Improved
Minecraft PE users always strive to improve or change the surrounding space. The developers of Cobblestone Texture Pack have worked on the appearance of blocks made of this material.
They began to look more elegant and interesting. Smoothed textures will allow you to use this material more often in the construction of buildings. It is worth noting that both fences and cobblestone stairs will now look in a new way.
These changes also have a practical purpose, because now the dungeons will become more convenient for players to explore.
What if the Cobblestone Texture Pack does not work?

Try to activate the experimental game mode.

Can I use it on servers?

Yes, you are free to use it on public servers.

How do I install this texture pack?

The file is in .mcpack extension, so just tap on the file to automatically install the modification.
Download Cobblestone Texture Pack for Minecraft PE